Artist Statement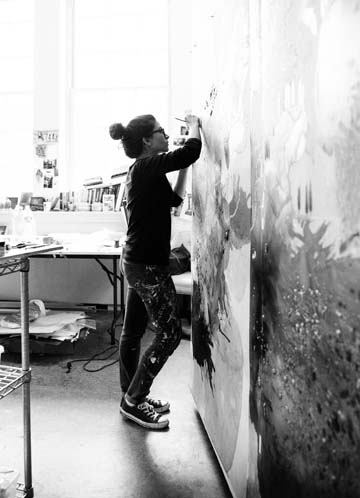 My work is the product of my multifaceted experience as an Iranian-American immigrant. It provides a space where my two disparate histories come together to reflect on cultural traditions and notions of belonging. By combining conventions of Western abstraction with conventions of Persian art, I explore contradictory painting processes and the ways in which they can be melded into a hybrid visual language. These pictorial clashes echo the erasure and distortion of cultural identities, evoking allegories of intrusion and invasion and moving beyond the personal to reference contemporary and historical interference.
Having moved to the US from Tehran at age 18, my lived experiences complicate my sense of identity as I navigate between Iranian and American cultural norms that are often contradictory. Rooted in this experience is my deep interest in the idea of "dualities": abstraction and representation; depth and flatness; transparency and opacity; and delicacy and crudeness are simultaneously present in my work. Fluid layers of poured paint are interlaced with intricately painted patterns and imagery derived from Persian paintings, illuminated manuscripts and Islamic architecture. The resulting images become portals to unknown worlds, echoing terrestrial and extraterrestrial vistas, hinting at galaxies, satellite imageries, land, earth and molten matter. These paintings merge conflicting elements into sublime landscapes that tread the fine line between equilibrium and chaos as well as between nostalgia and a sense of estrangement.
In addition, my work is a visual nod to the polarized impulses present in the global context and an opening to investigate the socio-political landscape through my unique lens. I've lived through harsh external sanctions imposed on Iran, as well as the repression of an authoritarian government. By blending culturally disparate languages of abstraction, my paintings become vistas in which images of such cultural and historical conflicts can play out: intricately painted tiles suggesting fragments of sacred Islamic architecture are invaded with cracked and coagulated layers of poured paint, and the stylized landscapes of Persian miniatures are inundated and overwhelmed by the otherworldly atmosphere of color field painting. Such approaches allude to the long tradition of outside meddling in Iran's cultural and political sphere.
---
Hedieh Javanshir Ilchi was born in Tehran, Iran and currently lives and works in the Washington, D.C. area. Ilchi received an M.F.A. in studio art from American University and a B.F.A. from the Corcoran College of Art + Design. She is the recipient of the Mid Atlantic Arts Foundation Creative Fellowship, Zeta Orionis Painting Fellowship, Independent Artist Award in Painting from Maryland State Arts Council and Bethesda Painting Award. Ilchi has participated in numerous solo and group exhibitions nationally. Her work has been featured in a number of publications including The Washington Post, Hyperallergic, Art Papers, the Washington City Paper, and the New American Paintings. Ilchi has been an artist-in-residence at the Ucross Foundation, Vermont Studio Center, Jentel Foundation, Kimmel Harding Nelson Center for the Arts, Playa Summer Lake, Monson Arts and Virginia Center for the Creative Arts. She is represented by Hemphill ARTWORKS Gallery in Washington, D.C.