Bethesda Painting Awards Finalist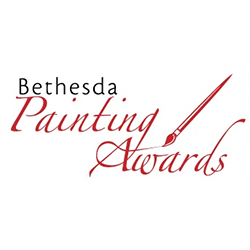 The Bethesda Painting Awards is downtown Bethesda's annual juried art competition that exclusively honors painters from Maryland, Virginia and Washington, D.C. $14,000 in prize monies are awarded to the top four painters annually. 
Congratulations to the 2013 Finalists!
Joan Belmar – Takoma Park, MD
Dennis Farber – Lutherville, MD
Christine Gray – Alexandria, VA
Hedieh Ilchi – Rockville, MD
Barry Nemett - Stevenson, MD
Cara Ober - Baltimore, MD
Erin Raedeke - Gaithersburg, MD
Bill Schmidt - Baltimore, MD
The 2013 Bethesda Painting Awards exhibition will be held June 1-29 at Gallery B.