Centerfold Artist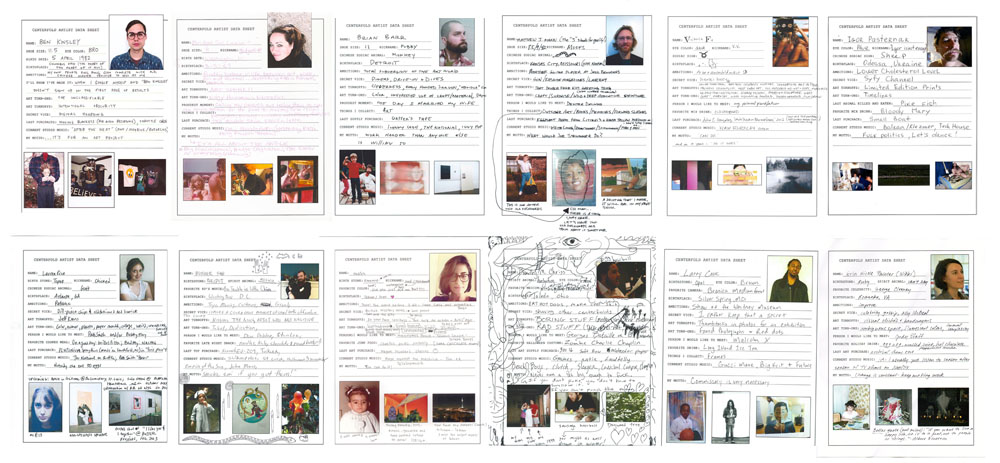 Show dates: March 29 – May 3, 2014
Opening reception: Saturday, March 29, 6:30-8:30pm
Gallery Hours: Wednesday – Saturday, 12-6pm or by appointment
This podcast project-turned-exhibition seeks to spotlight "the person behind the artist." In 2013, collaborators Annette Isham and Zac Willis hosted a monthly podcast based on a hand-written data sheet completed by their artist of focus ('Mr. January," "Ms. February," etc.).
A nod to the casual questions posed to magazine centerfold models, the improvisational discussion reveals the participant's answers to "What's your secret vice? and "Art turn-ons:_____." The project focuses on how an artist's personal preferences, quirks and sense of humor inform their art and practice – and importantly, encourage listeners/viewers to consider an artist at a level beyond the CV and exhibition statement.
The show, featuring each original podcast and datasheet as multi-media components, will include a "calendar" display of artwork by the past year's participants. 2013 artists to be exhibited include Ben Kinsley (Mr. January); Bridget Sue Lambert (Ms. February); Brian Barr (Mr. March); Matthew Mann (Mr. April); Victoria Fu (Ms. May); Igor Pasternak (Mr. June); Lauren Rice (Ms. July); Bonner Sale (Mr. August); Hedieh Javanshir Ilchi (Ms. September); Bradley Chriss (Mr. October); Larry Cook (Mr. November); and Nikki Painter (Ms. December).
Co-curators Annette Isham and Zac Willis both graduated with an MFA in Studio Art from American University. Isham received a BA in Studio Art with a Minor in Art History from the University of Richmond and Willis received a BA in Arts from Drury University in Springfield, MO. Their most recent collaborations include 'Confrontations,' at McDaniel College, Westminster, MD; 'Bathroom Whispers,' at AQUA Miami through Hamiltonian Gallery, Miami, FL; 'Beach Whispers,' at Artistphere, Arlington, VA
March 29, 2014

to

May 3, 2014