The Grand Cypher: Hip Hop, Iran and Syria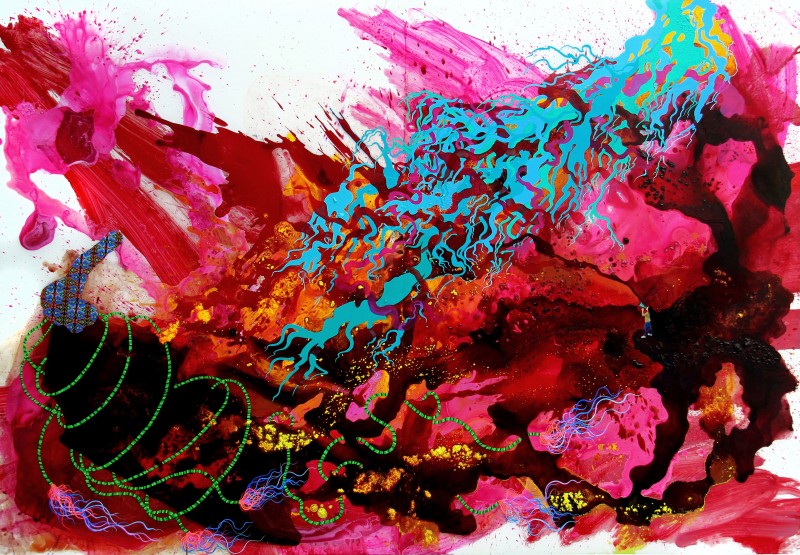 Curated by Julie Ashcraft (Jigsawnovich)
Rush Arts Gallery
526 W. 26th St., Suite 311, New York, NY 10001 Tel. (212) 691-9552
From April 24 through May 24, 2014, Wed. - Sat. 12-6pm.
Opening reception: April 24th 6-8 PM
This exhibition explores the geostrategic and cultural diplomacy aspects of Hip Hop. Handwritten lyrical poems, paintings, sculptures, photographs and videos by Iranian, Syrian and American visual and performing artists Tammam Azzam, Caitlin Cherry, Farid Farlek, Hedieh Javanshir Ilchi, Kinetics, Nooshafarin Movaffagh, Shahpour Pouyan, Ali Quf, Rakim, Sadra Shahab, Elias Shalhoub, Edward Shalash, Sham MCs, Siavash Talaei, Fred Wilson, and Ehsan Ziya/Atour Divar are included in this exhibition in addition to music videos by outstanding rappers from Iran, Syria and the USA.
Hip Hop began in New York City and has taken root in Iran & Syria. Now Hip Hop comes back to our shores refreshed with a wider point of view, long poetic history context –– and sometimes a Middle Eastern 6/8 beat. In the meanwhile some Hip Hop artists here in the U.S.A. have also been paying close attention to foreign affairs, international cartels, ancient history, human rights, and social justice. This is reflected in their lyrical poems and songs. 
As curator of this exhibition, I don't necessarily agree with all the viewpoints expressed by all the artists. Instead, I am trying to encourage artists to express themselves and I'm inviting artists with various viewpoints and backgrounds. After all, artists in a rap cypher express contrasting viewpoints and this is part of what makes it interesting. 
April 24, 2014

to

May 24, 2014